Dealer Uses AMSOIL Products Front to Back for Trouble-Free, Extended Vehicle Life
Dealer Steven Brick of Minneapolis was sold on the quality of AMSOIL products from the time he first started using them in his big rig more than 15 years ago.
"I have been using AMSOIL motor oils and filters since 2001," Brick said.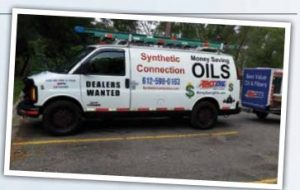 In 2001, Brick was an over-the-road lease operator with a 12-liter Detroit Diesel Freightliner Classic condo semi truck. He used AMSOIL Engine and Transmission Flush (FLSH) before he installed AMSOIL Premium Synthetic Diesel Oil and a DUAL-GARD® Bypass System with Ea® Bypass Filters.
"I was amazed to see the diesel oil was still clean with 36,000 miles on the oil change," Brick said. "Usually my engine oil would be black again right after a fresh oil change."
Brick said AMSOIL products saved the engine in a 1981 Chevy* pickup truck he owned in 2006. He installed AMSOIL Signature Series 0W-30 Synthetic Motor Oil (AZO) and an Ea Oil Filter when he purchased the vehicle.
"While I was driving early in the morning my engine blew the front seal, causing most of the engine oil to be lost," Brick said. "My engine lost most of its power before I was able to exit the interstate, and a lot of oil poured out under my truck when I came to a stop in a gas station parking space."
The truck was towed to a shop where Brick's mechanic installed a Speedi Sleeve* repair unit for a new engine seal before filling the engine with oil. "The engine started and ran fine," Brick said. "No major engine repairs were required."
In 2011 Brick purchased a 1996 Mazda MPV* with approximately 156,000 miles on the engine. He installed AMSOIL products front to back.
He ran the Mazda hard with AMSOIL Signature Series in the engine and an Ea Oil Filter. A WIX Transmission Filter was installed and the transmission filled with AMSOIL Signature Series Synthetic Automatic Transmission Fluid, while Severe Gear® Synthetic Gear Lube was installed in the rear main drive differential.
"I accumulated 33,000 problem free miles on this 1996 Mazda MPV minivan, fully loaded all the time and pulling my 4'x6' single-axle enclosed utility trailer as a service van for my window-cleaning and pressure-washing business," Brick said. "I was told by many people that by pulling a small 4×6 trailer that I used in my cleaning business, I would cause transmission problems. I pulled that trailer for 33,000 miles over four years and never had any problems with the drivetrain."
Last year, Brick bought a 2002 Chevy Express 3500 that he uses to advertise his AMSOIL business.
He installed AMSOIL products in the van when he bought it, flushing the engine with AMSOIL Engine and Transmission Flush before installing AMSOIL Signature Series 5W-30 Synthetic Motor Oil (ASL) and an Ea Oil Filter. Within a couple months, Brick had the transmission and torque converter flushed, replaced the filter with a new WIX filter and installed AMSOIL Signature Series Synthetic Automatic Transmission Fluid.
"Prior to this transmission service, my transmission was not shifting consistently or smoothly and even started in too high of a gear once," Brick said. "Since this transmission service, my 14-year-old Express took me from Minnesota to Arkansas with no trouble whatsoever and has performed flawlessly to this day. I am so thankful for having AMSOIL products throughout my 2002 Express van."
Brick changed the rear differential oil to AMSOIL Severe Gear soon after the first oil change in August 2015. He also installed a DualRemote Bypass System with sampling valve "to represent the best of AMSOIL as an AMSOIL Dealer and to get the most troublefree life from my old van," Brick said. "So far, it is working incredibly well, and I installed my bypass filter kit all by myself. It was actually a lot easier than I was expecting."